Bringing People & Animals Together To Heal & Grow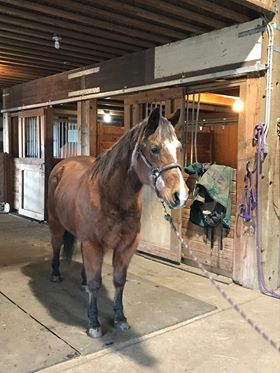 We are very excited to announce Dixie's transfer to One Heart Wild on Valentines Day. She is a 28 year old mare who has been part of an equine riding and youth program for many years. She has lost her home and needs a safe place to land.
Her vet report from last week shows the need for a dental float, she has arthritis from an old injury and some compensatory body issues. We are going to address those issues for her year round. We will also be changing her diet to see if we can head off cushings (insulin resistance). Her blood-work puts her in the pre-cushings category. Vet care, diet, supplements and body work in her first couple of months will likely be around $1000. Then she can fold in to the regular routine around here. 
We are also going to add another three sided run in shelter to give us more flexibility for her. We are set up for 10 horses, she will be number 10, so we don't have to do it right this minute. But, it is a priority to get another stall built. We have a volunteer builder coming in April to do it. Materials will be around $900.
Thank you for supporting our ability to take this senior mare in to Sanctuary to live out the rest of her life being loved and cared for. 
We can hardly wait to have her here and watch her bloom. And when she is ready, if she chooses, she can participate in our animal assisted services or maybe she will just enjoy retirement and soak in being catered to. Either way...WELCOME FRIEND! We can't wait to get to know you!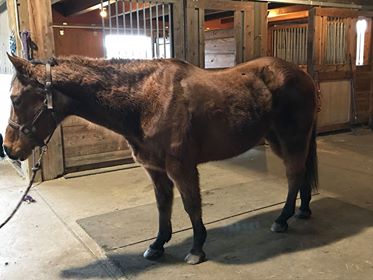 ---
     As we begin a new year, we hope you will keep One Heart Wild Education Sanctuary in mind. Together we are a compassionate community providing Sanctuary for animals and people who need us to be there for them. Whether you volunteer, donate, or tell people about the important work you support at One Heart Wild, we appreciate you and are grateful to have you as part of our community. As a 501 (c)(3) your support is tax deductible to the extent the IRS allows.
2018 funding goals:
First goal of the New Year is to fund the Sustainable Compost Partnership Program (Learn More)
Provide uncompromising social/emotional/physical/veterinary care, nutrition and housing for all of our residents - the foundation for everything One Heart Wild does in our community rests in prioritizing the welfare and wellness of the nonhuman animals we serve
Fund the Animal Assisted Therapy scholarship so no child or adult is turned away 
     The only staff position One Heart Wild pays for is a part time Sanctuary Manager. We contract for legal matters and our bookkeeping and accounting. Every other aspect of our organization is run by dedicated and committed volunteers and our outstanding working Board of Directors. In 2017 our volunteers will have logged over 12,000 hours in support of the animals, the sanctuary, and the programs. Your donations go directly to the animals and the people we serve and we Thank You!
---